AC Power Source - Model 6040 4 kVA AC Power Source
Product Announcement from Associated Power Technologies, Inc.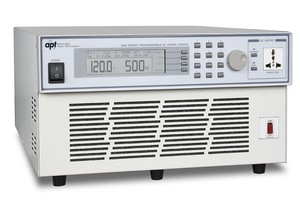 The 6040 automated AC power source is feature rich and ideal for advanced applications, at a price below the competition. Switch-mode technology and a direct coupled output make this AC power source light weight and efficient for use on the bench-top or in a rack mount. The graphic LCD display provides real-time data on the front panel and the easy-to-use local interface allows operators to get tests up and running quickly. Use the rotary knob to adjust voltage or frequency during testing, adjust the starting or ending phase angle of the output waveform, and simulate the effect of voltage surges and drops on your DUT for transient testing.
With 50 memory locations operators can use one instrument for a variety of testing applications without the need to change parameters before a test. The 6040 AC power source can be controlled with a PC from a variety of different interfaces, including USB/RS-232, GPIB, and Ethernet.
6040 Features
4kVA of AC power
Switch-mode technology and direct coupled output reduce overall size and weight
50 built-in memory locations with 9 test steps can be linked to quickly store and recall test parameters for multiple product testing applications
Standard RS-232 interface with optional GPIB and Ethernet interfaces available
Surge/Drop features simulates transient voltage conditions
Adjust the starting and ending angle of the output waveform
Burn in feature is ideal for production line testing
Prompt feature allows operator to display instructions between test steps
LCD display shows real time testing information
PLC output with Pass, Fail and Test-in-Process signals
Adjustable delay time, ramp up time, and test duration
Independent, adjustable high and low limits for voltage, current, and frequency
Programmable power up status feature configures the output relay for quick and efficient testing
Over-current fold back feature allows for powering high in-rush current loads
Push-button interface and numeric keypad for easy test setup
Quick output disable key
Universal output receptacle for convenient testing
Front panel lockout
Front panel calibration
Associated Power Technologies offers stock delivery and guarantees that your instrument will ship in 24 hours. APT also provides an industry leading 2 Year warranty program. To learn more about APT's products and their value you can visit them online at http://www.aspowertechnologies.com.
---