3Ø AC power with superior application flexibility
Product Announcement from Associated Power Technologies, Inc.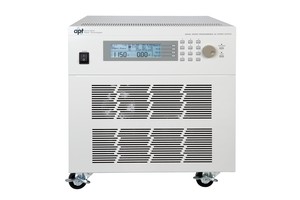 The 430XAC provides 3Ø AC power in a single box. This 3Ø 3 kVA AC power source offers superior application flexibility. Ideal for both production and laboratory use, the 430XAC provides a unique feature set and competitive price point. Our exclusive SmartCONFIG® feature allows the 430XAC to switch from 3Ø to 1Ø with the push of a button. This maximizes your investment while giving you the AC power that all of your applications need. In addition, the 430XAC also has the ability to change voltage and frequency on the fly via the front panel encoder. This time saving feature can be extremely beneficial in laboratory environments. The 430XAC can be controlled with a PC from a variety of different interfaces all at no extra cost. You can choose from USB, Ethernet, RS-232 and GPIB.
430XAC Features
3Ø power in a single box
Voltages up to 520 VAC & frequencies up to 1,000 Hz
smartCONFIG® feature allows for push button switching of 1Ø/3Ø configuration
50 built-in memory locations with 9 test steps can be linked to quickly store and recall test parameters for multiple product testing applications
Transient feature simulates voltage variations, brownouts and transient voltage conditions
Programmable starting and ending angle of the output waveform
Constant current output with over current fold back feature
Advanced metering circuits monitor voltage, current, peak current, power, apparent power, reactive power, power factor, and crest factor
External voltage sensing for accurate metering
Standard USB/RS-232 interface with no charge optional Ethernet and GPIB interfaces available
CE marked
Associated Power Technologies offers stock delivery and guarantees that your instrument will ship in 24 hours. APT also provides an industry leading 2 Year warranty program. To learn more about APT's products and their value you can visit them online at http://www.aspowertechnologies.com.
---