6-in-1 Electrical Safety Compliance Analyzers 8206
Product Announcement from Ikonix USA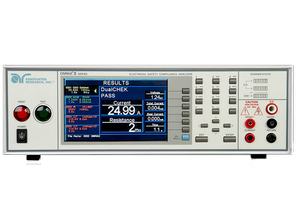 OMNIA II is the second generation of Associated Research's successful line of Electrical Safety Compliance Analyzers.The 8206 is a 6-in-1 Electrical Safety Compliance Analyzer that offers AC Hipot, DC Hipot, IR, Ground Bond, Functional Run and Line Leakage Testing in a single chassis. The 8256 offers AC Hipot (500 VA), DC Hipot, IR, Ground Bond, Functional Run and Line Leakage Testing in a single chassis. While building upon a proven platform, OMNIA II is equipped with several new and improved features and functions. OMNIA II includes an 800 x 480 Color TFT display that makes setting up test files, viewing results, and performing tests easier than ever. Color-coded test steps clearly indicate pass/fail conditions and users can also choose from 4 different color schemes to match their preferences. The 8204 is also equipped with an exclusive "My Menu" interface which allows operators to personalize menu settings, and create shortcuts to favorite screens and preferences. In addition, model OMNIA II includes Associated Research Inc's DualCHEK™ feature, which allows the user to perform simultaneous Hipot and Ground Bond tests. This can safely increase productivity and throughput on the production line. OMNIA II comes standard with a USB/RS-232 interface. Optional Ethernet, GPIB, Data Storage, and printer output interfaces are available.
Additional features of the OMNIA II are as follows:
Multiple language settings: Users can choose between English and Chinese
Up to 10,000 test steps for multiple programmable memory/step combinations
Patented SmartGFI® high speed shutdown circuit that provides maximum operator protection
Patented Prompt and Hold function inserts prompts or instructions as part of the test cycle
Patented CAL-ALERT® feature automatically alerts the user when the instrument is due for calibration
Patented FailCHEK® feature verifies that an instrument's failure detectors are functioning properly
Charge-LO® circuit confirms that the DUT is connected when performing a test
Ramp-HI® feature allows a user to charge the DUT as rapidly as possible without causing false failures
AC/DC Hipot Leakage Current Offset
True RMS Current readings
Built-in Measuring Devices for Line Leakage testing applications
For more information or to view complete specifications please CLICK HERE.
---