AC/DC Hipot Tester with RS-232 Interface - 3765
Product Announcement from Ikonix USA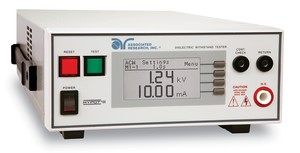 Hypot® III is a mid-range family of Hipot Testers that feature a standard RS-232 interface. Model 3765 provides AC and DC Hipot Testing. Hypot III, model 3765 offers advanced features for a production line hipot tester.
The RS-232 interface will allow users to directly connect the Hypot III tester to a PC. This provides users with the benefit of being able to setup the instrument remotely through the PC which allows for quick and accurate configuration of all test parameters. In addition to this in compliance with many safety agency requirements it becomes a very simple process to download all test results directly to a PC for record keeping.
In addition Hypot III Model 3765 provides a graphic LCD that simplifies the user interface by allowing clear and easy to view screens. This makes Hypot III an easy choice for production line hipot testing whether you require automation or a simple bench top tester.
Hypot III also provides the following features:
Patented SmartGFI safety feature
Patented FailCHEK and CAL-ALERT features
10 memories with 3 steps per memory
Remote Interlock Safety Feature
Hypot III, model 3765 is also safety agency listed. It carries the UL and TUV-GS safety agency listing marks as well as being CE Listed. These marks signify that the Hypot III's fundamental design and manufacture is safe for normal operator usage. The mark also means that Hypot III, model 3765 has gone through and passed type tests such as protective ground bond tests, voltage tests, and dielectric strength tests. This provides manufacturers who are unfamiliar with high voltage test equipment assurance that Hypot III is safe when properly used.
Hypot III, model 3765 comes with the industries only 5 year warranty (standard 1 year warranty is renewable each year it is returned for annual calibration for up-to 5 years).
---