Ground Bond Testers - HYAMP III
Product Announcement from Ikonix USA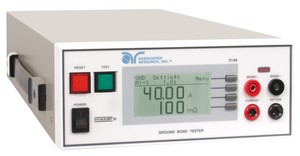 HYAMP III are manual Ground Bond testers that feature an enhanced graphic LCD. They consist of three models. The 3130 provides 30 Amps of Ground Bond test current, the 3140 provides 40 Amps of Ground Bond test current and the 3160 provides 60 Amps of Ground Bond test current. All models can be used stand alone or interconnected to the Hypot® III family of Hipot testers to form a complete test system. They can also be controlled through enhanced PLC Remote Control.
These C-UL-US & TUV-GS safety agency listed ground bond testers provide the user with an easy to use interface for quick and easy testing as well as advanced features and technology to make testing safer and more efficient.
The patented CAL-ALERT feature is a built-in calibration alert system that automatically alerts the user when the instrument is due for re-calibration. The CAL-ALERT function will notify its user a month prior to the instrument's due date. This date is automatically set after each calibration. The user has the flexibility to override this date and manually set up their desired calibration date. This user-friendly feature helps to ease the burden placed on manufacturers by eliminating the need for manual tracking of calibration dates.
The patented FailCHEK is a built-in self-verification system designed to meet requirements that call for the proper verification of a hipot tester?s functionality. VERI-CHEK is a menu driven process that will guide an operator through the proper steps to verify the functionality of the electrical safety tester and connected accessories. It is a cost savings feature in terms of both time and money.
The safety agency marks carried by the HYAMP III models signify that their fundamental design and manufacture is safe for normal operator usage. The marks also mean that the HYAMP III models have gone through and passed type tests such as protective ground bond tests, voltage tests and dielectric strength tests. This provides manufacturers who are unfamiliar with high voltage test equipment assurance that HYAMP III models are safe to use. It can also provide compliance to certain standards including OSHA requirements for safe work environments.
In addition, any of the HYAMP III models can be interconnected with any of the Hypot III models to form a complete test system with a single device under test (DUT) connection. This provide users flexibility in configuring a test system that meets their specific needs. With the capability to perform AC Hipot, DC Hipot, Insulation Resistance and Ground tests, four of the most commonly specified safety tests.
Additional features include:
. Enhanced Graphic LCD and user interface
. Enhanced PLC remote control and safety interlock
. 10 memories and 3 steps per memory
. Adjustable output current and milliohm trip ranges
. 4-wire measurement and milliohm offset
---