Hypot III - Proven Solution for Hipot testing
Product Announcement from Ikonix USA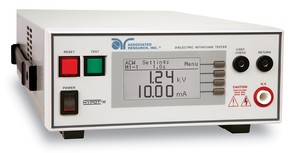 Hypot® III series of Hipot testers sets the standard for production line safety compliance testing. These instruments are packed with productivity-enhancing features and proven safety technology to reduce the safety compliance bottleneck on the production line. Model 3770 provides 3-in-1 functionality in that it provides AC Hipot, DC Hipot and Insulation Resistance tests in a single instrument. Hypot III is equipped with a standard RS-232 interface that will allow users to directly connect the Hypot III tester to a PC. This allows users to setup the instrument remotely through the PC, provides for which quick and accurate configuration of all test parameters, as well as provide a simple process to download all test results directly to a PC for record keeping. This makes Hypot III an easy choice for production line hipot testing whether you require automation or a simple bench top tester.
Hypot III also provides the following features:
- Patented SmartGFI safety feature
- Patented FailCHEK and CAL-ALERT features
- 10 memories with 3 steps per memory
- Remote Interlock Safety Feature For the user's piece of mind
Hypot III is:
- Safety Agency Listed
- CE Marked
- Comes with a 2 Year Warranty Standard!
See for yourself - request a live web demo today!
Still looking for more information - visit us online to Discover the difference today!
---