MedTEST System for Medical Device Safety Testing
Product Announcement from Ikonix USA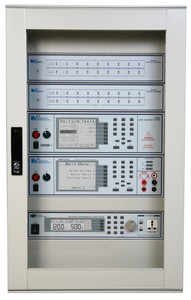 MedTEST provides advanced test functionality while increasing efficiency for medical device manufacturers. MedTEST combines all of the most common electrical safety tests required by safety agencies into a single software controlled system.
In all MedTEST can perform: AC Hipot, DC Hipot, Insulation Resistance, Ground Bond / Ground Continuity, Line Leakage, and Functional Run Tests. It can also perform all B, BF and CF type applied part testing. The unique continuous run capability built into the MedTEST system offers significant time savings in that it allows a user to perform multiple leakage tests even those in reverse polarity without powering down and up the Device Under Test (DUT). The MedTEST can also measure the voltage drop across measuring devices for compliance to IEC60065 and IEC60990, record the maximum RMS or Peak leakage current during a test, and comply with IEC60601-1 for AC, DC, and AC+DC leakage measurements.
MedTEST runs on the Associated Research, Inc Autoware software which enables the user to have complete computer control of the test system. This allows for advanced control and set-up of the test system and provides complete and downloadable test reports.
MedTEST can also be custom configured to meet almost any application. MedTEST can perform patient lead tests on a virtually endless amount of points! With its advanced functionality and low price point MedTEST is the most cost-effective solution on the market!
Click here to learn how MedTEST will work for your application!
---