Production Hipot Testers with RS-232 Interface
Product Announcement from Ikonix USA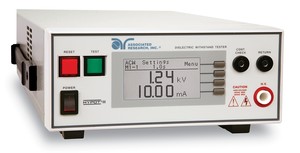 Hypot® III is a mid range family of Hipot testers that feature RS-232 interface, and an enhanced graphic LCD with a simplified user interface. Hypot III models include, 3705 5kV AC Hipot, 3765 5kV AC/DC Hipot and model 3770 5kV AC/DC Hipot with a 1kV Insulation Resistance test range. The model 3770 provides 3-in-1 functionality in a mid-range instrument. It covers the three most common safety tests, AC Hipot, DC Hipot and Insulation Resistance. Tests may be sequenced using set-up memories to include AC Hipot, DC Hipot, and IR tests individually or in any combination so tests may be run automatically. The RS-232 interface will allow users to directly connect the Hypot III tester to a PC. This provides users with the benefit of being able to setup the instrument remotely through the PC which allows for quick and accurate configuration of all test parameters. In addition to this in compliance with many safety agency requirements it becomes a very simple process to download al test results directly to a PC for record keeping. The enhanced graphic LCD simplifies the user interface by allowing clear and easy to view screens, including test setup screens and test result screens. Hypot III is flexible enough to be used as a bench-top production line hipot tester or as part of a test system that features entry level automation.
The enhanced graphic LCD also provides for advanced features such as the patented CAL-ALERT®, an automatic built-in calibration alert system, and the patented VERI-CHEK®,a built-in self verification system designed to check the instrument's functionality.
The CAL-ALERT feature is a built-in calibration alert system that automatically alerts the user when the instrument is due for re-calibration. The CAL-ALERT function will notify its user a month prior to the instrument's due date. This date is automatically set after each calibration. The user has the flexibility to override this date and manually set up their desired calibration date. This user-friendly feature helps to ease the burden placed on manufacturers by eliminating the need for manual tracking of calibration dates.
FailCHEK is a built-in self-verification system designed to meet requirements that call for the proper verification of a hipot tester's functionality. VERI-CHEK is a menu driven process that will guide an operator through the proper steps to verify the functionality of the electrical safety tester and connected accessories. It is a cost savings feature in terms of both time and money.
Hypot III also carries the C-UL-US and TUV safety agency listing marks. These marks signify that Hypot III's fundamental design and manufacture is safe for normal operator usage. The marks also mean that Hypot III has gone through and passed type tests such as protective ground bond tests, voltage tests and dielectric strength tests. This provides manufacturers who are unfamiliar with high voltage test equipment assurance that Hypot III is safe to use. It can also provide compliance to certain standards including OSHA requirements for safe work environments.
For increased user safety Hypot III features the patented SmartGFI® safety circuit,which is a high speed GFI shutdown circuit that provides maximum protection from electrical shock to the user. In order for a GFI system to work in safety testing applications the return circuit of the device under test (DUT) must not be connected to ground. However this is not always the case. If a conventional GFI is used on a DUT that requires the return to be grounded then the GFI circuit has to be manually disabled. The patented feature of SmartGFI is that it automatically detects the condition of the return lead circuit and by monitoring the return configuration of the DUT, has the unique capability to enable or disable its GFI circuitry accordingly.
Additionally, with its 2U ½ rack mount cabinet design the Hypot III family of products can be interconnected to the HYAMP® III family of Ground Bond testers that are also designed in a 2U ½ rack mount style cabinet. These two instruments can then be rack mounted side by side in a single 19" 2U rack space. The interconnection capability of these two instruments also provides a single DUT connection and automates the test sequence or sequences chosen by the operator such as AC Hipot, DC Hipot, IR test and Ground Bond test. If the operator prefers, linked tests may via a "single step mode" be accessed and performed one at a time.
Operator Friendly Features Include:
. User Friendly Interface
· Storage of 10 setups 3 steps per setup
· Max output current of 20 mA AC and 7.5 mA DC
· Switchable floating and grounded return
· Digitally controlled arc detection system
· Electronic ramping (up & down)
· Remote safety interlock
· Electronic dwell settings
· PLC remote inputs & outputs
· Built-in adjustable continuity test mode
---