For The World's Best, One Name Springs To Mind.
Product Announcement from Associated Spring-Raymond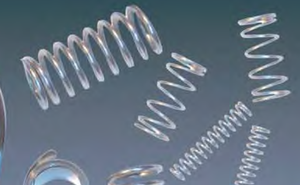 Coiled Spring Pins Rolled Spring Pins
Material: Spring Steel or Carbon Steel
Various designs including coil; rolled; cotter; taper pin spring.
Coiled Steel Spring Pins
Spring steel
Heat treated
Black oil finish
Chamfered ends
Meet SAE J496 specifications
Medium duty
Rolled Spring Pins
Meets SAE J496 specifications
Carbon steel
Black oil finish
Taper Pins
Low carbon steel
Non-plated
Recommended for applications where alignment is necessary or where disassembly is frequent
Metric Rolled Spring Pins
Meets DIN 1481 specifications
High carbon steel
Metric Cotter Pins
Meets Din 94 specifications
Meets ISO R 1234 specifications
Steel
Zinc plated
Extended prong type
.......For the world's best, one name springs to mind. Raymond®.
Raymond® Die Springs and Components
Quality. Without compromise
Because Raymond® die and nitrogen gas springs are built to the world's highest standards, with the most advanced technology, and backed by the world's best engineering, selection assistance, training and support.In addition to our standard U.S. die springs, we also offer separate lines designed and manufactured to ISO and JIS specification,
including our new ISO D Line
. Associated Spring Raymond's Nested Die Springs combine specific springs to maximize spring loading in applications where space is critical, or where additional force is needed.
Download our Nested Die Springs flyer here. Our nitrogen gas springs and accessories remain unmatched in the industry for safe and reliable performance, all in a very compact package. Our accessories include roller cams, flange strippers, part vibrators and pin extractors.
Raymond Die Springs
SPEC Springs
SPEC Disc and Spring Washers
SPD-SPEC Gas Springs, m-Struts® and Hardware
SPEC Retaining Rings, Springs Anchors and Almen Strips
Packaged Assortments
You cannot find the spring or washer you are looking for?
You are looking for a custom–made part for your special application?

Let us help… Send us a note now and we will design it or find it for you!
---