introduction of our new ISO D line of Die Springs.
Product Announcement from Associated Spring-Raymond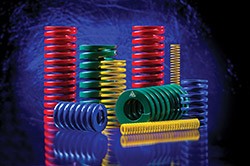 ISO D LineAssociated Spring Raymond is proud to announce the introduction of our new ISO D line of Die Springs.

The ISO D line includes 6 duty ranges:
Ultra Light Duty
Light Duty
Medium Duty
Heavy Duty
Extra Heavy Duty
Ultra Strong Duty
These Die Springs are manufactured to ISO 10243 standards and are designed to be interchangeable with many major manufacturers of the same type, size, and color.

Associated Spring Raymond Die Springs are manufactured using a wire cross section developed to provide optimum balance between load-carrying characteristics and cycle life.

As can be expected from a Raymond spring, all of the manufacturing steps are closely monitored by rigid quality controls, inspection and testing to ensure that the long service life engineered into every die spring is constant.

We offer sales, engineering, and product distribution from 9 wholly-owned facilities located throughout the Americas, Europe, and Asia. Complementing our wholly-owned facilities, we also offer products and services via a network of industrial distributors.
Raymond® Die Springs and Components
For the world's best, one name springs to mind. Raymond®.
Quality. Without compromise.

Because Raymond® die and nitrogen gas springs are built to the world's highest standards, with the most advanced technology, and backed by the world's best engineering, selection assistance, training and support.

In addition to our standard U.S. die springs, we also offer separate lines designed and manufactured to ISO and JIS specification, including our new ISO D Line.
Associated Spring Raymond's Nested Die Springs combine specific springs to maximize spring loading in applications where space is critical, or where additional force is needed. Download our Nested Die Springs flyer here.
Our nitrogen gas springs and accessories remain unmatched in the industry for safe and reliable performance, all in a very compact package. Our accessories include roller cams, flange strippers, part vibrators and pin extractors.
Raymond Die Springs
SPEC Springs
SPEC Disc and Spring Washers
SPD-SPEC Gas Springs, m-Struts® and Hardware
SPEC Retaining Rings, Springs Anchors and Almen Strips
Packaged Assortments
---