ASSUN MOTOR-DC Drive Total Solution
Featured Product from Assun Motor Pte. Ltd.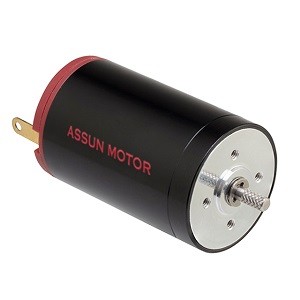 ASSUN Brushed Coreless DC Motor
Efficient & Smooth DC Drive
Brushed DC motor by Assun are designed and manufactured with Coreless winding to deliver the highest efficiency and dynamic performance. The high power-density, high torque, low inertia and smooth driving characters made it perfect for performance critical applications.
Quality Assurance
Having adopted the NdFeB permanent magnet, high standard bearings and high quality production materials, lifetime of Assun brushed motor could easily reach 3000 hours under rated condition and thus offer very high reliability and durability to our customer.
Model Differences
Metal brush motors by Assun could offer the highest efficiency of up to 90%. Benefited from its coreless winding and low inertia, no-cogging output, metal brush motors are ideal for precision driving and battery powered applications.
Graphite brush motors by Assun are more robust and able to draw much higher current to achieve high output toque and power. These motors are more suitable for applications with harsh operation environment and high-power needs, such as propellers, robot driving, and military industry systems.
Together with the DC brushed motor, there are various relevant products to support and form a total solution to DC drive and motion control. Visit our website to find out more!
Typical Applications
Medical Equipment/Instrumentation
Industrial Machinery, Tools & Equipment
Aerospace & Defense