ASSUN Brushless DC Motor
Featured Product from Assun Motor Pte. Ltd.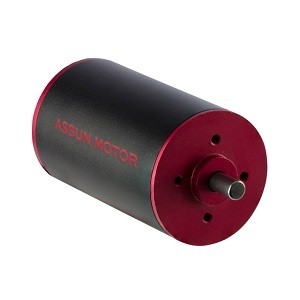 High Efficiency & High Performance
Brushless DC motors by Assun are manufactured with slot-less structure stators to achieve higher power efficiency and enhanced dynamic performance. Benefited from the slot-less design, Assun BLDC motors are free of cogging torque and are widely used in the high precision motion control applications.
High Quality Features
The NdFeB magnets have been adopted to guarantee the highest torque output and longest durability.
Brushless motors by Assun can easily reach 10,000 hours lifetime under rated conditions.
The 4-pole and 8-pole motors have been developed to deliver exceeding output power and torque.
High temperature materials have been used to support the high power output and guarantee the normal motor performance under high temperatures of up to 155?.
Total Solution Features
When equipped with encoder and servo controllers, the brushless motor will act as a servo motor to be integrated to the PLC actuation system. Servo controllers by Assun can meet the precision control of speed, torque and position. CAN Open and Ether CAT communications are supported by different models. Absolute and incremental encoder of up to 23 bits resolution could be provided for the most precise motion control.
Along with the DC brushless motor, Assun provides gearbox, controller, encoder and brake to offer total solution to DC drive and motion control. Visit our website and find out more!
Typical Applications
Medical Equipment/Instrumentation
Industrial Machinery, Tools & Equipment
Aerospace & Defense