2-Way Stainless Steel Ball Valve
Featured Product from Assured Automation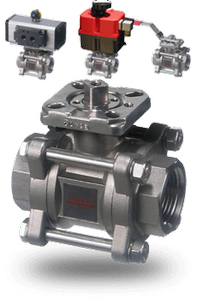 36 SERIES
Stainless Steel 2-Way Full Port Ball Valves
Assured Automation announces our 36 Series full port ball valve. It is a 3 piece ball valve constructed of 316 stainless steel. It is available with threaded, socket weld and quick clamp ends. The 36 Series can be equipped with a manual handle or with pneumatic or electric actuators.
Valves Typically used in the following industries:
Food and Beverage
Flavor and Fragrance
Cosmetic
Pet Food
Chemical
Pharmaceutical
Consumer Products (deodorant, shampoo, soaps)
Ink & Paint Dispensing (silicone free)
High Performance Full Port Valves
Features and Benefits:
Silicone Free
Full Port for unobstructed flow
Live-loaded Pyramidal stem seal design
Quick quarter-turn rotation
High cycle stem design
Integrated mounting pad for actuators
Swing out center section for in-line repair
T-Clamp valve has interior finish better than 180 grit
Materials:
Seats: PTFE or RPTFE
Stem Seals: PTFE, Viton, or RPTFE
Body, Ball & Stem: 316SS
End Connections:
1/4" to 3" NPT Threaded
1/4" to 2" Socket Weld
1/2" to 4" T-Clamp
Follow the links below to view additional information:
Stem Section Details of the 36 Series Ball Valve
Configure Your 36 Series Full Port Ball Valve Package Online
36 Series Installation and Maintenance Manual
For the Full Line of Assured Automation's Ball Valves visit us at http://assuredautomation.com/ballvalves/index.php
Assured Automation's online configurator will help you spec, price, and quote an automated assembly. Once you have selected the valve size, flow plan, and the actuator type, you can download the CAD drawings in your preferred format. Solenoid and Limit Switches also available.
For more information call or email kimo@aa-fs.com to discuss your application needs.