33D Series 3-Way Multiport Ball Valves
Featured Product from Assured Automation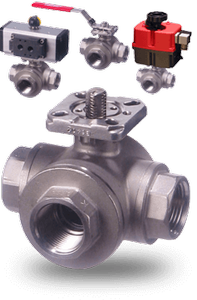 Configure, Spec & Quote 33D Series 3 Way Ball Valves
The 33D is a full port, 3-way, 316 stainless steel, NPT threaded multi-port valve. It can be equipped with a manual handle or with direct mount pneumatic or electric actuators. The direct mount actuators eliminate the valve-actuator mounting kit, which adds unnecessary height and expense. This valve is ideal for diverting flow to two destinations or receiving two different products into one vessel. Available in line sizes of 1/4" to 2".
A full range of accessory items are available including limit switches, solenoid valves, positioners and manual override devices
When purchasing 3-Way Ball Valves, use Assured Automation's online configurator to quickly and accurately select the valve assembly that meets your unique needs. The configurator allows you to specify and verify port arrangements for "L Port" and "T Port" valves. For example, to select a "T Port" valve configuration, select one of the five flow plans from a visual cross-section diagram to ensure proper flow paths.
SPECIFICATIONS:
Material: Body, Ball & Stem-316SS
Seats: RPTFE
Stem Seals: PTFE with Viton O-Ring
End Connections: NPT Threaded (1/4" to 2")
Temperature Range: -20 to 400 degrees F
Max. Pressure: 800 PSIG
TYPICAL APPLICATIONS:
Duplex Filters
Diverting Flow Between Tanks
Mixing Equipment
Pollution Control Applications
Process Control Applications
Textile Dyeing & Drying
Bottling & Dispensing Equipment
Ink & Paint Dispensing
Follow the links below to view additional information on the 33D Ball Valve Series:
33D Series Ball Valve Configurator: Build it, See it, Price it Online
Assured Automation's Complete 3-Way Ball Valve Selection Chart
Flow Control Magazine: Configure-New Online Tools Help Specifying Engineers Put the Pieces Together
For more information email Kim O'Neill at kimo@aa-fs.com to discuss your application needs.