Easy-Read WM-NLD Positive Displacement Water Meter
Featured Product from Assured Automation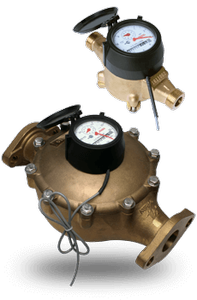 Lead Free Brass Meter with NPT adapters (1/2" to 1") or Flanged (1 1/2" to 2") for Potable Water
The WM-NLD lead free, potable water meter accurately measures cold water usage through a positive displacement mechanism. All sizes produce 1 pulse per gallon.
WM-NLD Advantages
Lead free and can be used for drinking water and potable water applications, and conforms to AWWA C700
Easy to read display to avoid reading errors
Easy installation and maintenance
Advantage of Positive Displacement
These meters use positive displacement to measure flow. This provides a low starting flow rate and great accuracy in any orientation. Unlike multi-jet meters, paddle wheel meters, and turbine meters, fluid simply cannot flow through the meter without being measured.
Easy Installation & Maintenance
All sizes include an internal reed switch and for pulse output with a 2 foot long, 2-wire cable emerging from the meter.
Although installed horizontally with the face up is preferred, all size meters can be installed vertically or horizontally or on an angle.
The bottom load brass plate and the register can be replaced or repaired without moving the meter from the pipe.
Available Accessories
Garden Hose Adapters for inline installation into any garden hose or garden hose spigot
Check Valves to prevent the backward flow of fluid through the meter which protects the meter as well as upstream water from any contamination introduced downstream from the meter.
Typical Applications
Residential & Commercial
Metering & Sub-Metering
Industrial Food & Beverage
Plant Process Water
Cement Mixers
Pond Water Feed Lines
For Pricing Visit: https://assuredautomation.com/WM-NLD/index.php?p=buy
View our full line of water, oil and fuel flow meters: https://assuredautomation.com/flow
Assured Automation technical representatives are also available at 800-899-0553.

Play Easy-Read WM-NLD Positive Displacement Water Meter Video