FM Fire-Safe Thermal Shutoff Ball Valves
Featured Product from Assured Automation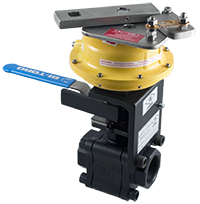 Assured Automation's FM Fire-Safe Thermal & Electro-Thermal ball & butterfly valve assemblies are FM approved for use in flammable liquid or gas applications. The heat actuated thermal links automatically shut or open the valve at trigger temps. A manual lever or gear operator allows the valve to be manually operated without affecting fusible link.
Assured Automation makes it easy to configure the FM FIre-Safe Shutoff to meet the specs of your installation. The online configurator produces the part number, price, and quote.
The FM Fire-Safe Shutoff assemblies from Assured Automation are API 607 and Factory Mutual approved for flammable liquids and gases, and are commonly used to:
To shut down hazardous lines when fire occurs, and
Activate sprinkler systems to control fire
These valve and fusible link assemblies include manually operated ball or butterfly valves. If a fire occurs, the thermal link either automatically stops the flow of flammable liquids or gases (in a normally open configuration) – or opens flow to release a fire retardant or divert the flammable material (a normally closed configuration).
The FM Fire-Safe is also available with an electro-thermal link (ETL) which is compatible with most smoke or gas detectors. The electro-thermal option is used with fuel and combustion control applications, combustion safeguards, and electro-signaling systems that are heat activated, smoke or gas activated, flame-energy activated, or activated by rate of rise or maximum temperature.
Assured Automation makes it easy to select the FM Fire-Safe configuration that meets each particular application's requirements through its online configurator. Using the Assured Automation configurator, mechanical engineers can choose among the following options:
Valve Types:
3 Piece Ball Valves, Full Port
Flanged Ball Valves, Full Port
Butterfly Valves, Lug or Wafer connections
End Connections:
NPT ½" - 2" Ball Valve
Flanged 150# Ball Valve ½" - 4"
Wafer, Lug Butterfly valve 2"-12"
Body Options:
Stainless Steel
Carbon Steel
Thermal or Electro-Thermal Link trigger temperatures:
165°F (74°C) U.L. listed Thermal link
212°F (100°C) U.L. listed Thermal link
286°F (141°C) U.L. listed Thermal link
360°F (182°C) U.L. listed Thermal link
Electro & 165°F (74°C) U.L. listed Thermal link (Indoor Only)
Electro & 212°F (100°C) Thermal link (Indoor Only)
Fire Actuation:
Normally Open (fail to close)
Normally Closed (fail to open)
Limit Switch:
NEMA 4/4X , Weatherproof, Intrinsically safe, SPST , NO, Red LED
NEMA 4/4X /7 Weatherproof , Explosion proof, SPDT
Standards
National Fire Protection Association NFPA 58, (1979 Edition)
OSHA 29 CFR 1910.106(b)(4)(iv)(c) Flammable Liquids
Factory Mutual Class Number 7440, May, 1981
ANSI/API 607 Fire Test for Soft-Seated Quarter Turn Valves.
The online configurator provides a part number and a quote, which can be saved, printed, emailed, or processed for purchase.
More information on the FM Fire-Safe Shutoff is available online at http://assuredautomation.com/firesafe. The online configurator tool is available at www.FMFireSafe.com. Assured Automation technical representatives are also available at 800-899-0553.

Play FM Fire-Safe Thermal Shutoff Ball Valves Video