HPF Series Fire-Safe SS Ball Valves, 3-piece Body
Featured Product from Assured Automation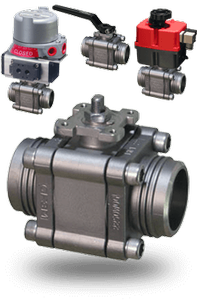 Assured Automation's HPF 3-piece, Fire-Safe API-607 Ball Valves are preferred for their superior quality, ruggedness in all fluid applications. They are available with NPT or Socket Weld Connections in sizes 1/2" to 4". The heat sink construction allows welding of fully assembled valve without damage to the valve seats.
A full range of accessory items are available including limit switches, solenoid valves, positioners and manual override devices.
Features & Benefits
Fire Safe Certified to API 607 4th Edition
3-piece design with swing out body for easy access to internal components
Dual body seals fully contained and protected
Anti-static grounding device
Blow-out-proof stem with superior seal design
High-strength stem with parallel head for positive ball position indication
Secure body bolting: bolts are fully encapsulated and secure directly into tapped holes in the body
ISO 5211 actuator mounting pad
Weld-in-place: heat sink construction allows welding of fully assembled valve without damaging the seats
Vented Ball: 1/8" hole drilled into stem slot to prevent excessive pressure build-up in cavity while valve is in open position
Available Actuators
Electric
Pneumatic (spring return)
Pneumatic (double acting)
Manual Handle
Typical Applications
Ideal for saturated or superheated steam, slurries, semi-solids, and corrosive services in endless industrial, chemical, power, gas, paper and original equipment applications:
Saturated steam service
Chemical process lines
High temperature media
High pressure applications
Cryogenic service (with special seats and stem extension)
Fugitive emission applications (with secondary media containment)
For Pricing Visit: https://assuredautomation.com/HPF/index.php?p=buy
View our full line of fire safe shutoff vavles: https://assuredautomation.com/thermal-shutoff-valves/
And check out our line of actuated 2-way Ball Valves at https://assuredautomation.com/actuated-ball-valves/
Assured Automation technical representatives are also available at 800-899-0553.