Industrial Globe Control Valves-GVI Series
Featured Product from Assured Automation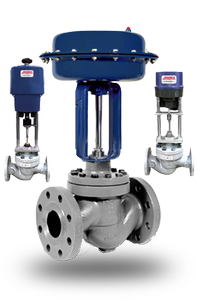 Assured Automation's GVI Series Industrial General Purpose Globe Control Valves are constructed of rugged steel or stainless steel bodies. They are available with equal percentage or linear plug styles. They cage-retained seats for ease of maintenance. They are available with a variety of trim materials to suit nearly any application. These valves provide excellent modulating control for pressure, temperature, level, and flow of a wide variety of fluids in from -20° to 800°F.
GVI Valves are effective for the control of liquids, gases, and steam (including corrosive fluids). They are well suited for applications with dirty fluids and high pressure drops. ANSI Class IV and VI leakage ratings standard.
Features & Benefits
Compact rugged valve body with integral flanges
Precision manufactured valve components provide smooth operation
Durable rugged plug and seat construction shuts off tightly
Oversized bearings and shafts to handle high pressure drops
Threaded valve stem connection and split stem connector provide zero backlash and assures minimum dead band and hysteresis
Factory lubricated packing and valve stem minimizes hysteresis from packing friction
ANSI Standard valve body face to face dimensions and bolt patterns
Bolted bonnet can be easily removed for easy access to trim for inspection and repair
Specifications
Materials
Body: Carbon Steel (WCB) or Stainless Steel (CF8M)
Trim: SS, RPTFE, or PEEK
Cage, Stem, & Seat Ring: 316 SS
End Connections
150# Flange: 1/2" to 4"
300# Flange: 1/2" to 4"
NPT: 1/2" to 2"
Socket Weld: 1/2" to 2"
Temperature Range:
Max. Shut-off Differential Pressure:
Varies with model and options
Rangeability:
Available Actuators
Electric
Pneumatic Diaphragm
Pneumatic Cylinder (special order)
Manual Hand Wheel
Typical Applications
General Service
Chemical Processing
Food & Beverage
Marine
Pulp & Paper
Refining
Power Generation
Pharmaceutical
Standards
ANSI Standard valve body face to face & bolt patterns
ANSI Class VI leakage rating (RPTFE and PEEK trim)
ANSI Class IV leakage ratings (SS trim)