VA Series: "Valve + Actuator" On-Off Valves
Featured Product from Assured Automation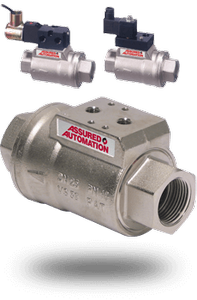 The VA Series combines a pneumatic actuator and fast on-off control valve into one body, eliminating packing glands, actuators and mounting kits. There are no exposed moving parts, eliminating pinch points and increasing operator safety. Since the actuator is part of the valve, costs are greatly reduced when compared to standard actuated valves. Operating life has been tested to well over 1,000,000 cycles, the balanced design reduces friction and wear. The stroke is linear and parallel to the flow, dramatically reducing the required force to close or open the valve. The internal waterway design was designed for optimum flow characteristics.
Materials:
Body - Nickel Plated Brass
Seals - BUNA-N, Viton, or EPDM
Valve Configurations:
Spring Return N.C.
Spring Return N.O.
Double Acting
End Connections:
NPT Threaded (3/8" to 2")
Specifications (Viton Seals)
Max. Temp - 302°F
Max. Pressure - 150 PSIG
Typical Applications
Air Drying Equipment
Pollution Control Equipment
Process Control Applications
Laundry Equipment
Textile Dyeing & Drying
Bottling & Dispensing Equipment
Ink & Paint Dispensing
Industrial Compressors
VA Series Features and Benefits:
Integrated pneumatic actuator
NAMUR solenoid mounting pad
Compact assembly
Fast valve actuation
High Cv (Flow Coefficient)
High Cycle-Life
Competitive price
Complete accessory equipment
Follow the links below to view VA Training Links:
Installation and Maintenance Manual
For more information call or email Kim ONeill (kimo@aa-fs.com) to discuss your application needs.