V-Series V Port Ball Valves
Featured Product from Assured Automation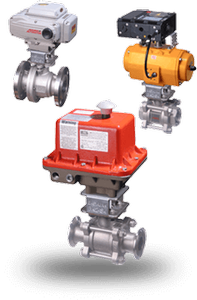 V-Series V Port Ball Valves
Assured Automation's new V-Series modulating ball valves are designed for control of pressure, temperature, flow or level in your process plant. Control signal options include 4-20 MA, 3-15 PSI and are available in ½" through 8" sizes. Various end connections are available such as NPT, Socket Weld, Tri-Clamp, 150# Flanged, and 300# Flanged. The throttling part of the ball valve is constructed from a solid stainless steel ball, not a seat insert. V-Series Ball Valves are characterized to meet your custom flow requirements.
Size one up using our Valve Configurator, or call us at 800-899-0553.
Typical Applications:
Maintaining flow rates for continuous batch operation.
Controlling pressure for liquid filling lines.
Controlling discharge temperature of a heat exchanger with a steam feed line.
Maintaining level in a tank.
For controlling tank heat jacket temperature.
Flanged Connections 150# and 300# ANSI (V150F/V300F):
Line Sizes available ½"- 8"
Body: Carbon Steel or Stainless Steel
Seats: TFM or 50/50
Max Temperature: TFM 475°,50/50 525°
NPT and Socket Weld Connections (V200/V300):
Line Sizes available ½"- 4"
Body: Stainless Steel
Seats: TFM or 50/50
Max Temperature: TFM 475°,50/50 525°
Tri-Clamp Connections (V350T):
Line Sizes available ½"- 4"
Body: Stainless Steel
Seats: PTFE
Max Temperature: 425°
Related Articles: