Modular Motor Flanges for Servo-Worm Reducers
Featured Product from ATLANTA Drive Systems, Inc.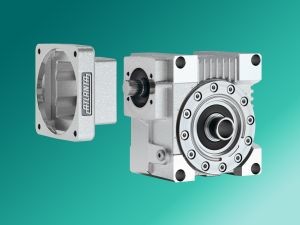 Modular Motor Flanges Add Flexibility to Servo-Worm Reducers
ATLANTA Drive Systems, Inc. is pleased to announce a new development for our Servo-Worm Reducers. ATLANTA has redesigned the housings for the HT (High Torque 98-Series) and HP (High Performance 58-Series) for increased flexibility.
Compared with the current housing version, which consists of a monoblock style casting, the new version makes the motor mount flange a separate piece. Now it is no longer needed to change the complete reducer if the motor changes. Only the new motor mount flange and input coupling would need to be changed; the basic reducer would remain in place. This brings the HP and HT-Series servo-worm reducers up to the same design as the E and B-Series reducers.
What will change for you?
Only the number of items and the associated part numbers. A complete reducer would now consist of a basic reducer AND a motor mounting flange.
What remains the same?
The overall reducer dimensions, technical parameters, performance and quality remains unchanged. This design change will be gradually released to the market depending on the current inventory of parts.
For the conversion from the current design to the new design, please click here to view the table.