Custom O-Rings Designed Specifically for You
Featured Product from Atlantic Rubber Company, Inc.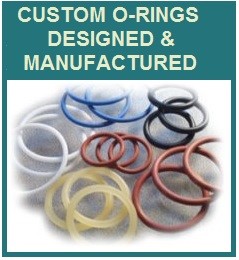 Custom O-Rings in an array of materials and sizes are designed to your needs using carefully compounded rubber and manufactured to high precision tolerances. They can be cut to any length and vulcanized to provide a strong uniform thickness and durable joint.
Heavy duty static applications have used O-Rings of this construction type successfully for decades.
Atlantic Rubber employs many polymers in compounding to manufacture its O-Rings to meet specific requirements.
Select a material to start your Request for Quote:
Aflas™ (O-rings)
Viton® fluoroelastomers (O-rings)
Fluorocarbon w/ nano filler
FFKM
Silicone (O-rings)
EPDM
Simriz® Perfluoroelastomer (O-rings)
Fluorez
PTFE
Nitrile ( Buna-N)
Fluorosilicone
Neoprene
HNBR
Butyl
Chlorosulfonated Polyethylene
Epichlorohydrin
Carboxylated Nitrile
Natural Rubber
Vamac ®
FEP encapsulated Viton ®
FEP encapsulated Silicone
FEP encapsulated EPDM
Polyurethane
Atlantic Rubber O-Rings are available in small or large quantities using stock tooling or with minimal tooling costs.
Contact us via the links on this page. We welcome your inquiries