The perfect rubber materials for your application
Service Detail from Atlantic Rubber Company, Inc.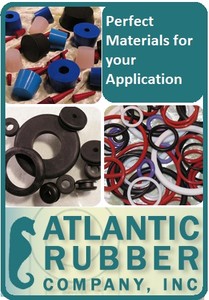 Hot water & steam, gasoline, freon, alcohol, LP gas, high temperatures, low temperatures.... all of these factors influence the best choice of material for your tubing, O-rings grommets or other types of seals and plugs.
Atlantic Rubber's staff have over 100 total years of experience in designing and manufacturing precision products for industrial, military, pharmaceutical and commercial markets. We offer expertise in application design, advanced manufacturing procedures, and outstanding quality control.
Here are some of the materials we work with and the applications suited to them.
BUNA-N (NITRILE) NBR - N70 The standard for most general applications: petroleum base lubricants, hydraulic oils, gasoline, fuels, alcohol, L.P. gases, water and many other media.
ETHYLENE - PROPYLENE - E70 For hot water, steam acids, alcohols, alkalis, keytones, phosphate esters, brake fluids, drive belts and exposure to oxygen, ozone and weathering. Food grade is standard
SILICONE - S70 Compatible with a variety of fluids, air, oxygen, ozone and other media for extremes of low and high temperature applications. Food grade is standard. Temperature Range: -80 to 450° F Also available in Class VI Medical Grade.
NEOPRENE (CHLOROPRENE) - C70 Recommended for refrigeration freon gases, carbon dioxide, chlorine, ozone, sunlight exposure and for use as drive belts. Temperature Range: -45 to 300° F HNBR is available for current freon service.
(VITON®*) FLUOROCARBON (FLUOREL) FK75 High temperature toughness, stability and compatibility with a wide range of fluid and chemical types including acids, oils, fuels, solvents and gases. Temperature Range: -40 to 450° F
FLUOROSILICONE - LS70 Recommended where extreme temperature properties are required. For petroleum oils, fuels and lubricants; synthetic ester and diester lubricants.Temperature Range: -100 to 350° F
Also Available: PTFE, Simriz®**, Kalrez®***, FDA Grades, PTFE-encapsulated Viton® or Silicone, Aflas and a full range of hardness in all compounds.
Atlantic Rubber molds parts from all elastomers, including Nitrile, Neoprene, Silicone, Butyl, Hypalon, Viton® and Pure Gum. From Natural Rubber to the newest polymers, Atlantic Rubber can meet your elastomeric requirements. And, if your application requires a special formulation, Atlantic Rubber can custom compound materials to satisfy your specific requirements.
We welcome your inquiries - e mail us via the links on this page or visit our website
*Viton® is a registered trademark of Dupont Performance Elastomers
**Simriz® is a registered trademark of Freudenberg Nok
**Kalrez® is a registered trademark of Dupont Performance Elastomers