Key Benefits of Monitoring Your Compressor System
Featured Product from Atlas Copco Compressors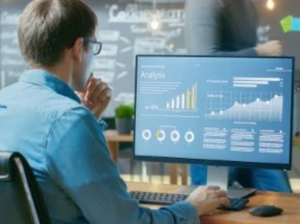 Did you know that air compressors are the backbone of the industrial world? Responsible for powering processes and essential in keeping plants, factories, and workshops' production on track, your compressor installation is a workhorse that requires regular service and maintenance to help it achieve maximum efficiency and longevity. This is where compressor monitoring and data gathering technologies come in, as these provide meaningful information on your system that can be visualized, tracked over extended time periods, and used to make insightful decisions regarding compressor performance. Now let's cover the key benefits of monitoring your compressor installation.
Data Visualization and Remote Monitoring. Monitoring and data gathering technologies gather meaningful information over weeks, months, and years that will inform you of your compressor installation's performance trends - as well as performance anomalies. The data can be viewed remotely, downloaded for further analysis, and even archived for future reference. These technologies also allow maintenance teams to make more insightful decisions without the inconvenience of being physically present in the compressor room.
Preventative Maintenance. The surest way to achieve optimal efficiency and maximum availability is by always knowing the status of your compressed air equipment. This ensures that you're able to react on any type of equipment malfunctions quickly and effectively. Alerts or notifications can be broadcast to maintenance teams and plant owners as soon as there is an issue so that the problem can be addressed and downtime minimized.
Long-Term Compressor Efficiency. Since air compressor monitoring and data gathering technologies allow you to be proactive with your maintenance, the total uptime over the lifespan of the air compressor is improved. The compressor system can also be preprogrammed to take certain actions in response to alerts and notifications; these actions are based on smart algorithms to troubleshoot the issue and keep the air compressor functioning efficiently at its maximum level.
Eliminating Manual Tasks. Monitoring and data gathering technologies make the work of running an air compressor installation less challenging. These technologies can eliminate the traditionally manual process of gathering data, creating reports, and distributing the insights to stakeholders. Additionally, insights from data are easier to make, alerts and notifications are broadcast immediately for faster action, and significant portions of the traditional maintenance process are automated for maintenance teams. Everyone concerned receives the benefit of time savings or workflow improvements.
Cost Savings. Tracking compressor performance and proactively responding to information gives you more mileage out of your machine. You will have optimized compressed air production per unit of electricity. You will reduce the labor costs involved with inspecting the machines and diagnosing issues. You will delay, and even completely avoid, incurring major repairs. And you can afford to wait longer before age-related inefficiencies take effect and you need to invest in a brand-new compressor.
Interested in learning more about how to monitor your compressor installation? Check out SMARTLINK, Atlas Copco's 24/7 remote monitoring system or visit us at www.atlascopco.com/air-usa!
Questions? Need help? Chat with us...