Ci5000: New Advanced System for Weathering Testing
Product Announcement from Atlas Material Testing Technology LLC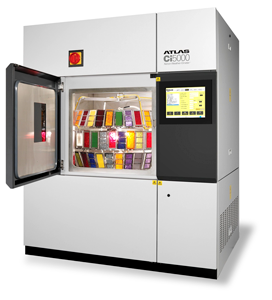 Atlas Introduces New Advanced Digital Control System for Ci5000 Weather-Ometer
Atlas is pleased to introduce two new Ci5000 Xenon-arc Weather-Ometers® with enhanced digital control to give operators more flexibility and control of accelerated weathering testing. Now available in a low voltage or standard voltage option, the Ci5000 is the perfect weathering instrument for large capacity, accelerated laboratory weathering.
Some of the most notable changes for both units include:
Modern, full-color TFT touch screen display with intuitive icons for easier interpretation of operating parameters and warnings.
Embedded control system that replaces the PLC controller of the previous generation.
Analog control circuits that have been replaced with a robust digital network for more reliable and accurate control and monitoring of the data.
Significantly increased memory capacity, allowing for additional features and functions previously managed by external controllers—such as water resistively and lamp water temperature.
The ability for operators to more efficiently analyze instrument performance, monitor test parameters, and perform calibration procedures.

Among other features and benefits of the new control system are:
Sub-cycle repeat programming for copying standards and saving them as templates
Full-color trend plot screen with large memory
Smart media card interface for test data portability
Smart sensors that communicate their status to the touch panel at power-up
Streaming data output formatted for compatibility with modern laboratory information management systems (LIMS).
The advanced digital control system is built with scalability for future upgrades. New software versions will simply be uploaded via the interface.

The low voltage model will use the same high-quality 12 kW water-cooled lamp, but the unit has been redesigned to use the same incoming line voltage as the discontinued Ci65A series Weather-Ometer. As control systems and repair parts for these older instruments are becoming obsolete or hard to source, Atlas has made it easier than ever to replace those units. For customers running standard ASTM, SAE, or AATCC test cycles, there will be no need to upgrade the incoming power to your lab. The Ci5000 low voltage model will be capable of running at the same irradiance levels as the Ci65A. If it becomes necessary to run test methods with higher irradiance levels (0.70 W/m² @ 340 nm or higher), the instrument can be retrofitted in the field to accommodate these tests.*

For more information about the new Ci5000 advanced control system, please contact a sales representative at +1 (773) 327-4520 or atlas.info@ametek.com.
For a detailed product brochure - click here.
---