Laboratory Weathering Testing from Atlas
Product Announcement from Atlas Material Testing Technology LLC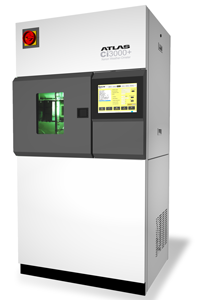 Laboratory Weathering Testing from Atlas
Atlas offers a wide range of instruments and systems that simulate the environmental parameters of sunlight, temperature and moisture in the form of rain, dew and humidity.

These parameters are controlled to replicate actual end use conditions. The chambers incorporate light sources ranging from carbon arc to xenon; metal halide to fluorescent lamps. Typical applications can be found in a variety of industries: textiles, automotive, paints and coatings, plastics and polymers, paper, chemicals and pharmaceuticals.
Xenon Arc Instruments - Xenon arc, when properly filtered, simulates UV and visible solar radiation more closely than any other artificial light source. It is the most widely preferred light source when the material to be tested will be exposed to natural sunlight.

Fluorescent Devices - Fluorescent UV lamps are incorporated into devices such as the UV2000, perfect for screening the effects of UV energy on your material easily and affordably.

Metal Halide Systems - Widely used throughout the automotive industry and their suppliers, these systems are gaining importance through two main applications: aging tests for components made from several materials and solar heat load tests used research and development of air conditioning systems.

Laboratory Test Services - Our network of laboratories provides a comprehensive array of Atlas accelerated laboratory weathering and evaluation equipment.
Contact Atlas at 773-327-4520, atlas.info@ametek.com or visit our corporate website - www.atlas-mts.com.
About Atlas:
For more than 90 years, Atlas has pioneered innovations in the way companies test the durability of their products. From our first instrument in 1915 - the Solar Determinator - which simulated the fading effect the sun has on fabric, to today's comprehensive network of weathering testing instruments and services, our focus has remained the same:

Providing our customers with sophisticated technology and advanced testing solutions to determine how long their products will last. As a result, they can reach their ultimate goals: a quality product, a competitive edge, a faster time to market.
---