Tilt Sensor - Two Axis Digital-Output - AT3510
Product Announcement from Atmos Aerospace LLC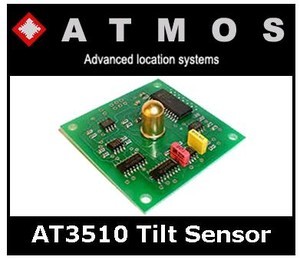 The Atmodule AT3510 series are two axis precision digital-output angle sensors. The module incorporates a two-axis electrolytic tilt sensor, sensor interface electronics, and a sensor signal processor. Smart drive techniques are used to eliminate warm-up drift and long term drift which are normally seen with electrolytic sensors. Learn More...
Quick Links:
Operating from a standard five-volt power supply, the module is designed for board mounting with 6-pin header connection. An acrylic coating protects the electronic circuitry. The module is intended for cost sensitive OEM applications that require good null accuracy and repeatability.
Atmos Products
From sensor to digital output, an Atmos module is ready to plug into your system in one extremely accurate, efficient unit, and communicate with your system in a digital format. The entire module is smaller than most sensors, with extremely low power consumption. Atmos modules are completely interchangeable, so manufacturing is simplified. If your application eats up sensors, replacement is much faster, less expensive, and requires no tweaking.
Product Line:
---