Ultrasonic Sensor Module for Water Meter
Featured Product from Audiowell Electronics (Guangdong) Co., Ltd.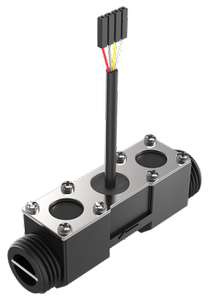 The Ultrasonic Flow Sensor Module measures the flow rate of liquid by calculating the transit time difference of upstream and downstream ultrasonic pulses. It contains no moving part in the pipe section, and therefore has lower pressure loss and higher accuracy than traditional flow meters. FS0010 is D25 in diameter, and the material conforms to the national drinking water sanitation standard. The pipe body is made of special engineering plastics, with high strength and good consistency; The measurement accuracy of the product is up to 2%, and it is not easily affected by the viscosity and conductivity of the medium. The range ratio can reach up to 160. It has a digital signal output function.