Ultrasonic flow transducers with plastic pipe
Featured Product from Audiowell Electronics (Guangdong) Co., Ltd.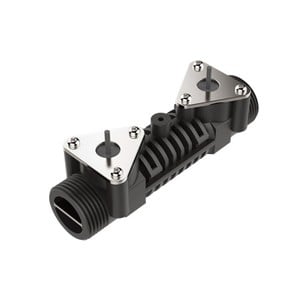 The Ultrasonic Flow Sensor with Plastic Pipe measures the flow rate of the water flowing through it by transmitting and receiving ultrasonic pulses. It is comprised of a pair of ultrasonic flow sensors and a polymer pipe.

Features
- Low pressure loss
- Anti-deformation material
- High-temperature resistance
- High accuracy and consistency
Specifications

Item

Specifications

Resonant frequency

1090±25 KHz

Resonant impedance

25~75 Ω

Free capacitance

1130±20%pF

Receiving Signal

≥350mV

Max. Allowable Working Pressure
2.5MPa
Operating Temperature
+0.1

?

?+90?
Installation Length
110mm
Connection Thread
G3/4

Diameter

DN15
Applications
- Ultrasonic water meter
- Water flow measurement