BC2BB SERIES "THE DOC" Battery
Featured Product from Autec Power Inc.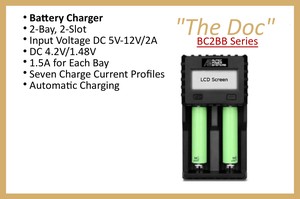 "The Doc" (BC2BB Series) is a Two-Bay Battery Charger that features an Input Voltage of DC 5V-12V/2A, an Output Current of 3000mA, and an Output Voltage of DC 4.2V/1.48V.
Features/Options include fireproof PC+ABS Material, black plastic case with LCD Screen, and fully automatic charging. "The Doc" supports seven charge current profiles and is suitable for charging rechargeable batteries.