Autofulfillment™ SPrint™ System
Product Announcement from Automated Packaging Systems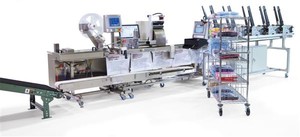 The Autofulfillment™ SPrint™ System is uniquely engineered to bring automation, speed and flexibility to high-volume mail order fulfillment applications. It is designed with advanced integration technology from Accutech Packaging and innovative product engineering from Automated Packaging Systems
The Autofulfillment SPrint System operates at speeds of 12 to 15 completed bags per minute. This modular and fully customizable system integrates with existing Warehouse Management Systems to pull order paperwork and shipping labels once an LPN or SKU has been scanned. The system is designed to easily package single or multiple items in the same bag, while accurately scanning and verifying the complete contents of each order.
Streamlined Operation
The automated fulfillment process starts with the inline system delivering a pre-opened SidePouch® mailbag to the operator workstation. This machine holds the bag open in a box-like position for easy loading. At the same time, the shipping label is automatically printed, applied and verified. An optional, programmable collator/inserter is designed to deliver catalogs, literature or other promotional items to the operator for hand inserting into the bag, while an optional inline printer produces the packing slip or invoice, and automatically inserts it into the bag. The operator then cycles the bagger by scanning the next product to be loaded, triggering automatic sealing of the previously loaded and labeled bag. As that bag passes through the sealing area, the system closes out the order, while the next bag is presented for loading. A 3-point scanning verification process ensures order and shipping accuracy. The system scans and verifies the product SKU, invoice and shipping label for a positive match on all three points before the package is sealed and released.

Enhanced Productivity
The ergonomic design and small footprint of the Autofulfillment SPrint easily integrates into existing packing and shipping areas. Each field-proven, modular component is designed into the system for easy serviceability.
The touch-screen control panel includes comprehensive reporting and monitoring functions, including productivity per hour, per shift, and per product line. This system is supported by technical phone support to keep it running at peak performance, and features remote diagnostic capabilities, all while backed by the industry's largest field service organization.and monitoring functions, including productivity per hour, per shift, and per product line.
---