Flow measurement made easy with Picomag!
Featured Product from Automation24, Inc.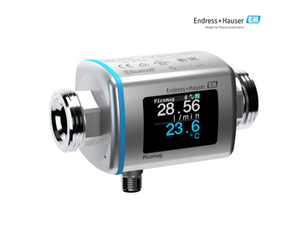 The Picomag electromagnetic flow meters from Endrewss+Hauser are a must have for reliable and accurate water flow measurement. The Picomag can provide a solution for process control of conductive liquids for numerous applications and efficiently monitor and report empty-pipe detection. With a sleek, space-saving design that requires no inlet runs, this handy flow meter offers almost effortless installation. It can be easily integrated into any automation control system thanks to the IO-link communication protocol. Difficult to access installations are not an issue thanks to the 10-meter Bluetooth range and step-by-step commissioning can be performed in less than three minutes! Once active on the SmartBlue app, full configuration of the display, engineering units, outputs and more can be easily performed on any smartphone or tablet. Our catalog of Picomag flow meters has a variety of specifications, including:
Measuring range up to 750 l/min (198 gpm)
Bi-directional flow measurement
Degree of protection: IP65/67
4" TFT color display with backlight
The high shock and vibration resistance make them durable and reliable for long-term use. Another benefit of the Picomag is it can be integrated into all fieldbus applications. All of the temperature and conductivity measurement features are perfect for quality control and monitoring.
To see all of our Picomags and other electromagnetic flow meters, head to www.automation24.com!