Compact GA series 3-pole disconnect switches
Featured Product from Automation24, Inc.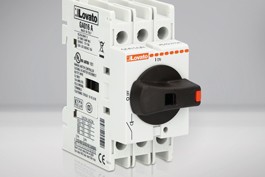 Lovato Electric available at Automation24
We are now proudly offering you a variety of three-pole disconnect switches from Lovato. They are available as DIN rail mounted and direct operating for ease of commissioning. Door-mounted extension handles can be mounted to fit any size enclosure. Not only are they compact and user friendly, but they are also secure. A built-in padlockable mechanism ensures the utmost protection against tampering.
For example, disconnect switch GA016A is available as a 3-pole direct operating unit with DIN rail mounting. At a protection rating of IP20 and max operating voltage of 600 V AC, the GA016A is ideal for industrial, building management and workshop installations. Automation24 is also offering NEMA 4/4X enclosed complete devices, such as the enclosed disconnect switch GAZ016UL with recessed red/yellow operating handle.
GA series three-pole switch disconnectors
The GA series of three-pole disconnect switches from Lovato are available up to 63 A in both DIN rail and door mount versions. Mechanical features include interlock for line changeover and a mechanical coupling system. Accessories are also available including:
Auxiliary contacts
Earth/ground terminals
Neutral terminals
Wide range of handles
Lovato Electric: reliable energy management
Founded in 1922 in Bergamo, IT, Lovato has almost 100 years of experience manufacturing low voltage electrical devices. ISO 9001 certified, they focus on producing industrial products that meet the highest of international standards while providing competitive products. Their product range covers everything from motor protection to controllers and includes over 18,000 products. Lovato consists of 15 different branches abroad, one of which is located in Chesapeake, VA which supports the US market.
Automation24,
Automation24, Inc. is your premier online supplier for industrial automation components offering a well-rounded selection of products and solutions. We have developed a comprehensive, continuously growing range of items from brand name manufacturers such as ifm efector, Siemens, Weidmüller and more. From sensor to control cabinet, we provide world-renowned products to our valued customers at the best prices, provide outstanding technical support and customer service and promise product delivery in a timely fashion.
To ensure a convenient and pleasant online shopping experience, we have created the easy-to-use automation24.com webshop. With a modern and fresh design, accurate and fast product selection tools and live chat for immediate assistance it has everything you need right at your fingertips.