Precise work area with industrial lighting!
Featured Product from Automation24, Inc.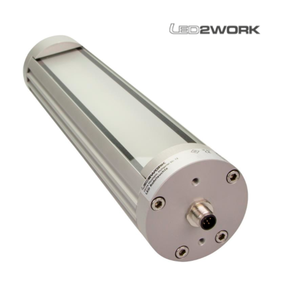 Industrial lights facilitate a comfortable and precise work area and are indispensable to production. Exceptionally high-quality industrial lights with LEDs should meet various requirements, among them long life, energy efficiency, powerful light output, and sufficient protection.
Thanks to their crystalline structure, there is reduced heat generation, which has a positive effect on power consumption. Compared to traditional incandescent and halogen lamps with the same lumen output, LEDs provide a 60 percent savings on electricity costs. Moreover, they are virtually maintenance-free and have a long service life of up to 60,000 hours. By comparison, halogen lamps can only offer up to 4,000 hours and energy-saving lamps up to 15,000 hours. LEDs also hold an advantage in terms of durability, as they come available up to the highest safety classes and, depending on the fixture structure (e.g. borosilicate glass), resistant to shock or vibration. Furthermore, LEDs, unlike other bulbs, are especially environmentally and health friendly, since they emit no UV or infrared radiation, and toxic substances are not a concern.
Applications of Industrial lights
Industrial lights play an important role in the industrial environment, among them:
Machinery and systems
Workbenches
Test stations
Other work stations
At Automation24, you can get industrial lights from the manufacturer LED2WORK, which produces various machine lights for all your applications. Whether surface mount lights, signal lights, or construction lights, you get excellent product quality for the best price.
Order industrial lights at Automation24 today! Your production will benefit from the high quality, efficiency, and reliability of the products. Great prices and fast delivery times all from one source - Automation24.