MultiMonitor
Product Announcement from Automation Control Products (ACP)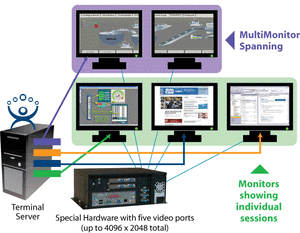 ACP's MultiMonitor allows ThinManager users to take advantage of ThinManager Ready Thin Clients from Arista and Advantech and display up to five screens on a single Thin Client. While a few other Thin Client companies have started to offer multiple monitors, ACP is the first to allow the client to display a different session on each of the screens.
The MultiMonitor module, combined with one of the new MultiMonitor capable clients, can be used to span sessions across monitors and/or run individual sessions on each monitor. Touch screens are also supported, and if using a keyboard the single keyboard entry follows the mouse focus. "Sliding" the mouse off the edge of one screen moves it onto the adjacent screen.
Users can locate monitors at any location within the virtual space, and can even combine spanning and multiple sessions on a single Thin Client. For instance, two adjacent monitors might be used to span a single session while two other monitors are each used to display sessions running on other servers. Wizards make configuration of all the screens a snap.
MultiMonitor Thin Clients come in 1, 3 or 5 monitor configuration and support resolutions up to 1920 x 1440 with 64K colors on each monitor. Spanned sessions are limited by the maximum Terminal Services session size 4096 x 2048.
---