ThinManager Client Management Software
Product Announcement from Automation Control Products (ACP)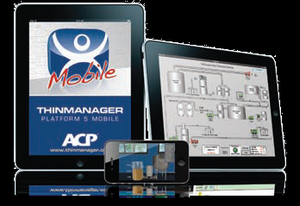 ThinManager offers technology for IT professionals seeking better security and configuration of their thin client networks. Our MultiSession core technology allows multiple sessions running anywhere on the ThinManager network to be viewed through one thin client.
ThinManager can "tile" these screen views based on your settings. You can dictate which tile shows which session. You can set it to run in screensaver mode so that certain "tiles" are constantly updated with different sessions. Multisession allows you to view displays from differentapplications on the same monitor.
Quicker installs, less configuration
Terminal Server environments allow a single install of each application for useby all connected clients. Upgrading and deploying applications is no longer a hassle. Configuration Wizards make setup easy.
Terminal to terminal shadowing
Terminal to terminal shadowing allows one thin client session to be viewed and controlled from another thin client terminal. This feature isuseful when managing or training requires that a session running on one client be observed from another client. This feature can be combined with ScreenTiling to monitor several clients simultaneously.
Manage virtual resources
Reduce and consolidate server hardware by taking advantage of virtualization. ThinManager allows you to manage your virtual resources over a Terminal Server network with continuity over different client hardware platforms.
Reduced maintenance and downtime
By reducing maintenance time, you also reduce downtime. ThinManager's redundant systems allow your plant to keep running during maintenance and it prevents you from getting the 2:00 a.m. phone call. Lower management costs and less downtime make thin client systems more economical over time. Thin Clients also use about one tenth of the energy that a PC uses.
---