Auto-Face V Touch Switch and Indicator Panel
Product Announcement from Automation Displays, Inc.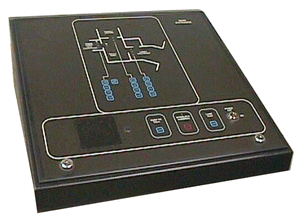 Features
Switches are the ADI Snap Dome PB-100 switch
The front graphic, switches and indicators are sealed behind a non-glare over laminate which translates to easy maintenance.
The switches and indicators may be removed from the back.
LEDs are PC board mounted behind the graphic faceplate
LED indicators are T-1 3/4 LED indicators, available in red, green, yellow, amber, white and blue
Switch life expectancy is 5,000,000 operations
Graphic background colors may be either black with colored lines and legends or colored background with black lines and legends
Available hardwired or with a serial interface
The Auto-Face V touch switch and indicator panel combines both operator inputs and visual annunciation in one display. Operator inputs are through ADI PB-100 touch dome switches located below the surface of the display with indication by long life high intensity LEDs. The graphic display is a multicolored graphic representation of the area being controlled.
ADI PB-100 touch switches are attached to the aluminum substrate with machine screws and can be replaced from the rear of the panel. Switch contact is momentary, normally open, single pole rated at 40mA at 24VDC with a life expectancy of 5 million operations. Activation force for the switches is 220 grams with travel of .015 inches and an average effective operating force of 325 grams.High intensity red, green, amber, blue, yellow and bi-color LEDs are used in these panels. T-13⁄4 LEDs are socket mounted on a printed circuit board with voltage dropping resistors for operation at 24 VDC, 12 VDC, or 5 VDC and diodes for LED test.
The graphic surface of the Auto-Face V display panel is a multicolored 7-mil polyester film protected by a 6-mil vinyl laminated overlay. The graphic artwork can be either black lines and text with multicolored background or colored lines and text with black background. Colors for the graphic are selected from ADI's chart of 40 standard colors. Custom colors may be specified to meet design or architectural requirements. An attractive clear or black anodized aluminum frame enhances and protects the edge of the panel.
An ADI Z-Card microprocessor controller system can scan the switches, illuminate the LEDs, and provide inputs and outputs to a host computer via an RS232, RS422 or RS485 serial line. Auto-Face V panels may also be wired to terminals or multi-pin connectors; both allow for connection by the customer to a programmable controller or a hardwired system.
---