Autotronics Custom Designed DC Solenoids
Product Announcement from Autotronics, Inc.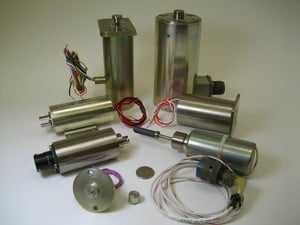 Custom solenoids provide the best match with your mechanical load requirement, reducing excessive energy dissipation. Premature failure of the unit is reduced because of the resultant reduction in excessive impact.

Wiring and/or connectors can exit the solenoid in the location of your choosing, and various classes of insulating materials are available. Basic plug and plunger configurations are flat, stepped, and 60 and 90 degree conical. Other configurations can be designed to conform to unique force/stroke specifications. Specialties include high temperature, double latching, and miniature, and Autotronics solenoids are high quality military grade.

Autotronics will maintain the inventory of your product for you and ship incremental quantities as you release them.

Why adapt your system to a standard solenoid when Autotronics, Inc.'s engineers can design to your exact specifications?
Click here to view the Engineering and Design Notes
----------------------------------------------------------------------------------------
Please contact Dominic Mastroianni for additional sales information:
Email: sales@custom-precision.com
Phone: (919) 452-6463
Cell: (919) 868-3628
Please contact Autotronics, Inc. directly with any engineering questions:
Email: sales@autotronicsinc.com
Toll Free: (888) 776-2609
Phone: (417) 781-1812
---