Custom Brakes
Product Announcement from Autotronics, Inc.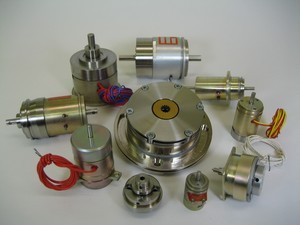 Our custom design services take your product from concept through production. Included in the design and development process are the mechanical and electronic design, rapid prototyping, and design and fabrication of test fixtures. Environmental testing is available as required.

With over 50 years of experience, we recognize that a quality product is dependent on its design. We offer custom products reflecting cost efficiency, high quality, fast turn around, close tolerances, attention to detail, and creative problem solving. Autotronics, Inc. is ISO 9001:2004 and AS9100 with Design Certified.

These images represent some of the custom products we have designed for our customers. Pictured are examples of friction brakes, fail-safe brakes, tooth brakes, bi-stable brakes, motor or servo brakes, high temperature brakes and gearbox brakes.
Click here to view the Engineering and Design Notes
----------------------------------------------------------------------------------------
Please contact Dominic Mastroianni for additional sales information:
Email: sales@custom-precision.com
Phone: (919) 452-6463
Cell: (919) 868-3628
Please contact Autotronics, Inc. directly with any engineering questions:
Email: sales@autotronicsinc.com
Toll Free: (888) 776-2609
Phone: (417) 781-1812
---