Cold Isostatic Presses
Product Announcement from Avure Technologies, Inc.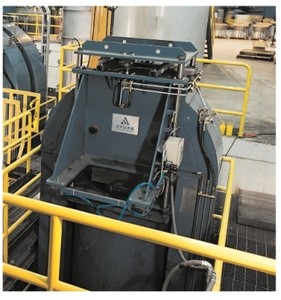 Avure Technologies has a Cold Isostatic Press (CIP) design to fit virtually any size and pressure requirement you may have. Pressure vessel diameters from 51 mm (2 inches) to 3 meters (117 inches) and pressures up to 7000 bar (100,000 psi) are available. Avure can offer the precise pressure vessel design that will give you the most economical solution to your cold isostatic pressing needs. Vessels are built to ASME Section VIII, Div. 3 (the American Society of Mechanical Engineers) and can be certified in accordance with CE and the PED, the European Pressure Equipment Directive and other international pressure vessel regulations.
Avure Cold Isostatic Presses are offered in three basic capacities:
High Volume Production Systems
These large cold isostatic presses (also named wet bag presses) are designed for maximized cycle life, optimized selection of subsystem components for maximum throughput, and precise control of pressurization and depressurization for consistency of results. Extremely large sizes and / or high pressures are easily accommodated. Standard vessel diameters: 508mm (20'') to 3m (117") and standard pressures up to 4,000 Bar (60,000 psi).
Pilot / Small Production Presses
Mid-size cold isostatic presses ideal for pre-production testing and lower volume parts production. Standard vessel diameters: 152mm (6") to 508mm (20') and standard pressures up to 4,000 Bar (60,000 psi).
Laboratory CIP Presses
These self-contained units are fast, convenient, and inexpensive systems for basic research, feasibility, and prototyping studies of cold isostatic pressing. Standard vessel diameters: 51 mm (2") to 152mm (6") and standard pressures up to 4,000 Bar (60,000 psi).
All Avure cold isostatic press models can be designed for warm fluid operation.
---