HOT ISOSTATIC PRESSES, VOLUME PRODUCTION
Product Announcement from Avure Technologies, Inc.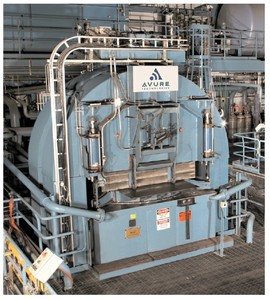 Hot Isostatic Pressing (HIP) is a process that uniquely combines pressure and temperature to produce materials and parts with substantially better properties than other methods. HIP can achieve 100% of maximum theoretical density, improving the ductility and fatigue resistance of high-performance parts and materials. The pressure medium is an inert gas, normally Argon. High temperatures and high isostatic pressures yield better controlled grain growth and structure as well as isotropic properties, which result in the superior performance characteristics typical for HIPped parts. HIP applications include defect healing of castings, consolidation of metal powder pre-forms and near-net shaped parts, consolidation of ceramic powders, and sintering of diamond tools.
Avure Technologies isostatic presses are widely recognized as the leading brand in the world. This is due to the company's technological superiority in a number of areas, particularly in the institutional knowledge related to engineering, design, manufacturing and application of high pressure technology. The first QUINTUS® isostatic press was delivered in 1965.
AVURE offers a full line of standard models of Hot Isostatic Presses for medium and large scale production or models can also be custom configured to meet your needs. These presses are available with furnace diameters of up to 2 m (79") for pressures ranging from 105 to 270 MPa (1035-2700 bar/15,000-30,000 psi) and temperatures from 500 to 2200°C (870-3990 °F).
---