High Volume Production Hot Isostatic Press Systems
Product Announcement from Avure Technologies, Inc.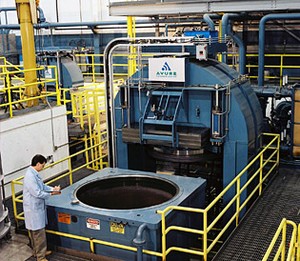 Avure offers large capacity hot isostatic presses (HIPs) that can process very large parts and batches, dramatically lowering per-unit production costs. These systems are custom engineered for specific applications, and are built, delivered, installed and commissioned as a turnkey project.
Each customer's needs define the configuration of a production HIP. Typical specifications are as follows:
Maximum operating pressure is 1035 to 2100 bar (15,000 to 30,000 psi). Higher and lower pressures are available.
Vessel I.D.: 0.5 to 2m (20" to 79") Vessels up to 3m diameter can be produced
Vessel Height is typically 1 to 4m (39" to 14ft)
Materials available: Graphite, Molybdenum, Steel, and Various Hybrids
Operating Temp.: 500 to 2200°C (870 to 3990°F)
Uniform Rapid Cooling furnaces available on selected models. Contact us to discuss your specific requirements.
---