TRIO™ CX-7
Product Announcement from Azima DLI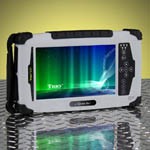 TRIO™ CX-7 is the first of a new generation vibration data collectors and machine condition analyzers. TRIO's new ergonomic design and Bluetooth® wireless data acquisition provide more comfort and efficiency when performing repetitive data collection to support your Predictive Maintenance (PDM) program.

TRIO is completely new, it is not based on the way your father performed Predictive Maintenance. It is fresh, uses new technology and design drawn from the shortcomings of traditional collectors. Move out of the '90s and forget how your father collected data... TRIO has arrived and has improved how we all perform Predictive Maintenance. Safer, easier, and more productive... TRIO.
TRIO BENEFITS
TRIO utilizes the newest generation industrial tablet PC having as much computing power as many PC workstations
Safer to use with hands free and wireless data acquisition. Voice activated acquisition allows you to use your hands for other things. Wireless connection to the data processing unit allows you to move away from dangerous machines while collecting data.
Its modular configuration is robust and will lower the overall cost of ownership; when your user interface becomes obsolete, purchase an inexpensive replacement. As new capabilities become available, download and install them.
Have another PdM application? Install it on TRIO and take it with you.
TRIO carries a complete replica of your PdM database, with TRIO you have all of your machine history onboard.

Play TRIO™ CX-7 Video
---