Dual Encoder to USB Converter Allows PC Access
Product Announcement from BEI Sensors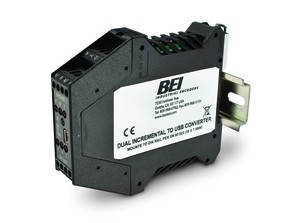 BEI's Dual Encoder to USB Converter module translates encoder position data to industry standard USB 2.0 format that can be accessed directly through a PC. Each module can handle signals from two SSI absolute encoders or two quadrature incremental encoders. An optional programmable data sample function allows users to automatically capture readings on a precise time clock.
Using a simple PC interface, this module can be programmed through the USB port for number of bits with absolute encoders. For incremental encoders, count mode (X1, X2, X4), reset, preset, and preset/reset on index are programmable through the USB. Incremental encoder counter register length is programmable, up to 32 bits. The Dual Encoder to USB Converter is ideal for system setup and debugging, data acquisition, analysis, monitoring and PC based control applications.
For more information, visit www.beiied.com.
About BEI Industrial Encoders:
BEI Industrial Encoders (IED) is a company of Custom Sensors & Technologies (CST). IED manufactures optical encoders and associated electronics for the industrial market. IED is the market-leading brand of encoders in North America.
About Custom Sensors & Technologies:
Headquartered in Moorpark, CA - Custom Sensors & Technologies (CST) is comprised of industry-leading brands including Crouzet, Kavlico, Crydom, and former divisions of BEI Technologies - Newall and Systron Donner. CST provides sensors, controls, and actuation products for the Transportation, Industrial and Aerospace & Defense markets.
---