Big Knife™ valves
Product Announcement from B+E - Stainless Valve Company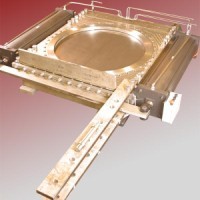 Big Knife™ valves are a development to bridge the gap between the typical knife-gate valves, which are often called throwaway valves with all their many technical disadvantages, and the more expen­sive Stargate-O-Port valves, with some of the advantages of the O-port valves. When knife-gate valves are used in applications with solids in the flow media, these valves tend to press the solids into the seat area, over time preventing the valve from closing all the way. The SVC Big Knife™ valves are designed for applications with low percentage of solids. For higher percentage of solids, frequent actuation of the valves or for valves where the class VI shut-off is required, the Stargate-O-Port™ valves are the technically and economically better solution in spite of the higher purchase price.
SVC Big Knife™ valve are designed to allow solids to accumulate in the bottom of the valve, to a certain extent, as the valve is being closed. The bottom of the valve can be flushed out in order to prevent com­paction of material in that area. The amount of accumulated solids depends on valve size, particle size and percentage of solids in the flow.
The other advantage of SVC Big Knife™ concept over other knife gate valves is the possibility to clean out the valve bottom if material cannot be flushed out and to do this while the valve is in line. The bottom lid is opened for clean out.
When the SVC Big Knife™ valves are used together with a locking device for blanking off purposes without set­ting blanks, often a small drainage valve is installed downstream from an isolation valve in order to monitor possible leakage through the isolation valve. With the SVC Big Knife™ valve this installation of a drainage valve not necessary. Opening the bottom of the valve allows the monitoring of the leak proof ness of the Big Knife™ valve. Also there is no pressure build up inside the valve which can give a force component towards the opening direction of the blade; an added benefit for safety.
SVC Big Knife™ valves still retain the bi-directional shut-oft feature of our other valve designs. The gate is being guided between spring-loaded seats through its entire travel. There are no bent gates at high pressure on reverse flow because of the heavy-built of the valve.
---