Capping Valve for biomass reactor - Capping Valves
Product Announcement from B+E - Stainless Valve Company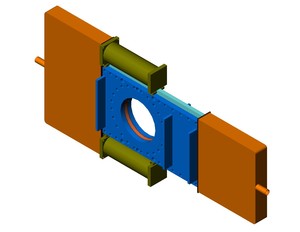 Filling valves, capping valves, for biomass reactor in Europe. High temperatures and acidity of the process require especially manufactured valves in Alloy 20 for high temperatures in the reactor.
The valve is built for 300# service and actuated by hydraulic actuators.
The special design allows the complete control over any possible emission, which may come through the packing of the valve. Any leakage can be piped away from the covers and recycled into the process.
Stainless Valve is here to help, with your most unusual valve application needs, Click Here to send us a message or question...
Our Product lines include some quite impressive products - (Click below to learn more and links for additional specifications and information)
About Stainless Valve Company:
Stainless Valve Company has been making quality valves for over 25 years. They are located in Monroe, North Carolina. Their facilities are close to several Interstates, so they can utilize a vast array of shipping resources. They have exclusively designed and implemented the Stargate-O- Port valves. Their company's determination is to provide their customers with the best advice, assistance and products available. They are staffed with professional valve designers and builders to carry out this determination. They strive to provide excellent professional service with a personal touch and have successfully satisfied customers on a national and international scale. This is due to everyone in the company being attentive to the needs stipulated by their customers.
---