Diverter Valves
Product Announcement from B+E - Stainless Valve Company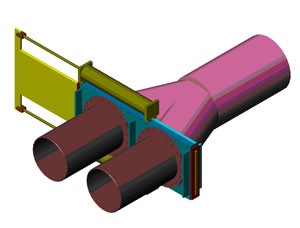 These valves are used in applications where, for example, a positive displacement pump is feeding into the inlet of the diverter valve, which then allows the flow out of either of the outlet pipes.
Diverter valves allow the valves to be actuated switching from one outlet to the other without having to stop the positive displacement pump. There is no need to interlock two valves making sure that the pump does not pump against two closed valves.
The actuation of the valves with the pumps running is possible because at no stage are both of the outlet ports closed switching between the ports. There is, however, a possibility to have a third position of the blade outside the orifices, which then closes the valve, both outlets, completely. Another advantage of the diverter valves is the lower price in comparison with two single valves together with no need for interlocking the valves and the pump.
Stainless Valve is here to help, with your most unusual valve application needs;
Our Product lines include some quite impressive products - (Click below to learn more and links for additional specifications and information)
About Stainless Valve Company:
Stainless Valve Company has been making quality valves for over 25 years. They are located in Monroe, North Carolina. Their facilities are close to several Interstates, so they can utilize a vast array of shipping resources. They have exclusively designed and implemented the Stargate-O- Port valves. Their company's determination is to provide their customers with the best advice, assistance and products available. They are staffed with professional valve designers and builders to carry out this determination. They strive to provide excellent professional service with a personal touch and have successfully satisfied customers on a national and international scale. This is due to everyone in the company being attentive to the needs stipulated by their customers.
---