Large Diameter Knife & Gate Valves
Product Announcement from B+E - Stainless Valve Company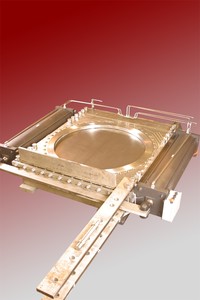 A unique 48 in. knife gate valve made of high strength 2205 Duplex Steel instead of standard stainless steel for processing more corrosive and abrasive materials has been introduced by Stainless Valve Company of Monroe, North Carolina. Stainless Valve Company is a producer of specialty valves for the worldwide chemical, food, pulp, power-generation, mining and related industries.
The new ferritic / austenitic stainless steel material used in the 48 in. valve makes it 50 percent stronger than austenitic stainless steel valves as well as more corrosion resistant in many applications.
Stainless Valve is here to help, with your most unusual valve application needs, Click Here to send us a message or question...
Our Product lines include some quite impressive products - (Click below to learn more and links for additional specifications and information)
About Stainless Valve Company:
Stainless Valve Company has been making quality valves for over 25 years. They are located in Monroe, North Carolina. Their facilities are close to several Interstates, so they can utilize a vast array of shipping resources. They have exclusively designed and implemented the Stargate-O- Port valves. Their company's determination is to provide their customers with the best advice, assistance and products available. They are staffed with professional valve designers and builders to carry out this determination. They strive to provide excellent professional service with a personal touch and have successfully satisfied customers on a national and international scale. This is due to everyone in the company being attentive to the needs stipulated by their customers.
---