Stargate O-Port™valves, ball valve replacement
Product Announcement from B+E - Stainless Valve Company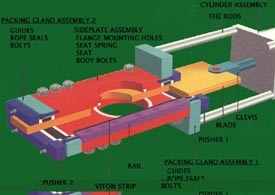 1. Stainless Valve Company is the producer of specialty through-port valves for the chemical, pulp and mining industry.
2. The Stargate-O-Port® valves replace ball valves but also replace knife gate or wedge gate and butterfly valves. These replacements happen in those applications in which these valves do not perform and have a useful life of less than one year. Stargate-O-Port® valves are warranted for most applications for 3 years.
3. Together with the precision ultrasonic positioner EP 2000 the valves can be used for the control of flow. Different port and orifice shapes allow selecting certain characteristics of flow cross section and blade position.
4. In maintenance situations, in which it becomes necessary for safety reasons to take out pipes and set blank flanges, much time can be saved by using the Stargate-O-Port® valves, because they also serve as a line blind. The tight class VI shut-off allows to close the valve, inset the locking pin and a pad lock and work downstream of the valve safely. Even from a distance it is possible to see that the Stargate-O-Port® is open ore closed and locked.
5. A variation of the Stargate-O-Port® is the diverter valve. It allows with one valve to switch flow from one line to another without ever having both lines blocked and without stalling the pump.
P.S. Stargate O-Port®. is part of the SVC product family, i.e. Big Blow?, The Big Screen ?
---