Candle Filter Removes Particle Contamination: BHS
Product Announcement from BHS-Filtration Inc.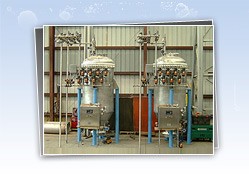 BHS CANDLE FILTER APPLICATIONS Fine Solids Removal & Clarification of a Specialized Acidic Solvent at a Metal Galvanizing Plant
The BHS Candle Filters are installed for clarification and recovery applications from liquids with low solids content where the final product is the cake or the liquid. They are an ideal replacement for manual Sparkler filters, filter presses and other equipment where solids, solvents and hazardous materials are being handled.
SPECIFICATIONS
Three (3) x KF 125 - 74 (125 candles with 74 m2 of filtration area each) with PLC Controls by BHS for a completely automatic operation. Skid is fully pre-piped and pre-wired for a turnkey installation
PROCESS BENEFITS
This customer produces steel sheets for automotive use in thickness from 0.4 - 2.5 mm It is an electro - galvanizing process with Zn + 10% Ni in H2SO4 The slurry flow is 220 m3/hour (968 gpm) The particle sizes distribution is an average at 20 um The BHS candle filters removed the particle contamination (metals, salts, etc.) from the H2SO4 slurry, which is recirculated back to the process. There is no turbid flow. The candle filters must produce clean fluid within one pass. Any residual particles in the H2SO4 that is recirculated will damage the galvanizing process and steel sheets leading to a rejection of the sheets. Cake discharge into totes for disposal The units were installed in 1995 and run 24/7.
Filter media socks are removed every 12 months for a routine shutdown. The socks are inspected and cleaned and reused. There have been no unscheduled shutdowns. The socks most likely would last longer but this is a critical application so a once/year turnaround is always planned. The customer has one complete set of registers / candles / socks so change out time is one shift or 8 hours.
There is a crane which lifts the registers out of the vessel and then are lowered to a "candle trolley" for transporting to a clean area where the candles can be cleaned and the socks inspected / cleaned / or changed. Cycle time is one hour for filtration, draining, blowing and cake discharge. The overall cycle is controlled by timers. Slurry feed is by centrifugal pumps. Overall, the customer is pleased with the unit operation, reliability and performance. They require no operator intervention and have led to an improvement in their quality of the metal sheets for their customers.
DESCRIPTION The BHS Candle Filter provides for pressure filtration as well as heel filtration in an enclosed and pressure tight housing. ASME housings can be constructed of various materials. They can also be jacketed for heating/cooling or drying. The filter media sock can be any type of cloth with a clean removal efficiency in the 1-5 micron range. As the cake builds up on the candles, the efficiency improves to less than 1 micron. Cake washing follows which produces a uniform cake for drying. Drying can be by vacuum or gas blowing. Finally, cake discharge via gentle gas expansion of the filter media sock. The discharge is automatic, contained and heel-free; it is accomplished with minimal gas requirements. Slurry discharge of the cake by filling the vessel with liquid and then initiating gas blowback can also be accomplished. After discharge, the cycle automatically begins again.
The Candle Filter provides operational/process flexibility and can incorporate different filter media. Finally, the units can be used with a pre-coat of diatomaceous earth, activated carbon or other media depending upon the filtration characteristics of the solids. BHS, then, completes the installation tanks, pumps, instrumentation, full PLC controls, all skid-mounted with piping, valves, electrical, etc.
TESTING & RENTAL PILOT FILTERS BHS has two filter laboratories in Charlotte, NC. One facility conducts filtration, washing and drying studies using a bench-top pocket-leaf filter (PLF). The second lab is used for wet/glassware process reaction studies combined with filtration, washing and drying. Finally, these preliminary tests can also be done on-site. In all cases, BHS gathers the data for filter sizing and process guarantees.
BHS also provides pilot-scale candle filter rental units, LKF (with 0.17 m2 of filter area with one candle) and KF 3-1 (with 1 m2 of filter area and 3 candles). The rental units can be installed on a slip or side stream to run the actual process. The KF 3-1 is fully automated by pneumatic control so it can be easily installed without the concern of electrical classifications. The LKF is fully manual and also pre-piped with manual valves.
BHS-Filtration Inc. uniquely specializes in thin-cake filtration, cake washing and drying technologies. BHS filters provide alternatives to centrifuges, nutsche filters, rotary vacuum filters and filter presses as well as manual plate filters.
---